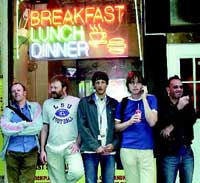 Chances are pretty slim you've ever heard any of the melodic Dutch pop gems from Holland's Daryll-Ann, because they simply have never managed to make any sort of impression here in the States. The only reason I ever stumbled onto them a couple of years ago was the accidental result of Epitonic-fueled boredom.
I almost never take fliers on bands I've never heard of before, unless they were recommended to me by a trusted friend. But this was once instance I did, and will be forever grateful for having done so, because these guys are fantastic!
So, consider me YOUR trusted friend, and give Daryll-Ann a listen. You'll be glad you did (unless you are Goldmember and hate the Dutch)...
"Everybody's Cool" (from 2001's Happy Traum)
"10:45" (from 2004's Don't Stop)
"Serenades for the Lonely" (from 2002's Trailer Tales)
"Rollercoaster" (from 1996's Daryll-Ann Weeps)
"We Love Danger" (from 2004's Don't Stop)
"When You Cry" (from 2001's Happy Traum)